It's time for another challenge with us at

the

Southern Girls

.
This fortnight

Team Lou

have created projects to inspire you for the new challenge
we're looking for circle embellishments like sequins, flair, enamel dots etc
Our generous sponsors for this challenge are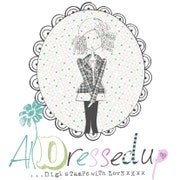 ~~~*~~~*~~~
Today I have used the

Feeling Spoilt

digital stamp by

All Dressed Up
,
one of our generous sponsors this fortnight, adding fancy folds to this stylish image.
There are bundles of tutorials out in cyberland on how to make this
front step / step panel card design. This card folds flat for mailing. I up-sized the card to fit this tall, elegant digital stamp. Dimensions are detailed below is you would like to give it a try, just remember to burnish your folds firmly to ensure that your card stands proud and tall when finished.
Flat dimensions - 5
1/4
" wide x 8" tall
Standing dimensions - 5
1/4
" wide x 1
1/4
" deep x 6
3/4
" tall
I got distracted by the fancy folds and gone a bit out of sequence. Once I had worked out the dimensions for all the panels, I sized the image to suit, printed it on X-Press It blending card, heat set then coloured with Copic markers. I added Stardust Stickles to the earings and Clear Wink Of Stella Glitter Brush to the bubbling glass of champagne and glass table top.
I had a lot of empty space to the right hand side of the image panel, so added some bling to the top then thought it needed more, so I punched a bundle of flowers from black and white cardstock, colouring some with a Copic marker, layering them black-pale blue-white and topping them with black rhinestones.
Here are some more pics showing the
dimension and some different views of these fancy folds.
Click on the image to view them in full screen.
*** INGREDIENTS ***
Copic markers - skin - E0000-000-00-21
Copic markers - lips - R83-85
Copic markers - hair - E30-31-33-35-37
Copic markers - dress - RV00 + R81-83-85-89
Copic markers - bow on shoes - R81-83-85
Copic markers - rose - R83-85-89 + YG61-63
Copic markers - gift - B41-91-93
Copic markers - champagne - E50-53 + Clear Wink Of Stella Glitter Brush
Copic markers - table - B0000-000 + Clear Wink Of Stella Glitter Brush
Stardust Stickles - earings
black rhinestones
assorted flower punches
Helmar 450 Quick Dry adhesive -
to adhere the layers
Tombow Mono Multi Liquid Adhesive -
to adhere the flowers
~~~*~~~*~~~

I hope I have inspired you to get creative and look forward to seeing your work shared in the challenge gallery.
R
emember we are not just a card blog, we love to see scrapbook layouts, artjournal pages and all types of papercraft.
I am going to enter my card in the following challenges (alphabetical order):
~~~*~~~*~~~
A Bit More Time To Craft Challenge - Challenge #60 - Anything Goes
A Bit More Time To Craft Extra Challenge - January Challenge - Anything Goes
All Dressed Up Challenges - Challenge #77 - Anything Goes (using All Dressed Up)
Cardz 4 Gals - Challenge #63 - Anything BUT Square
CCC Digi Creations
-
Challenge #88 - Anything Goes
Colouring In Scrapland - January Challenge - Anything Goes
Crafting By Designs - Anything Goes January Edition
Crafting With An Attitude - Challenge #35 - Anything Goes
Digi Choosday Craft Challenges - Wk 04 - Anything Goes
Hiding In My Craft Room
-
HIMCR #336 - Color It
Love To Scrap Challenge Blog - LTSCB #105 - Anything Goes
Pammie's Inky Pinkies - PIP Challenge 1803 - Anything Goes
Penny's Paper-Crafty Challenge Blog
-
Penny's Challenge 364 - Anything Goes
Polkadoodles Craft Challenge - Week 3 - 19 Jan - Anything Goes
QKR Stampede - Challenge #279 - Anything Goes
Scrapbook Stamp Society Challenge Blog
-
Challenge #132 - Anything Goes
Simon Says Stamp Wednesday Challenge Blog
-
Simon Says: Layer It Up
The Cutie Pie Challenge Blog - Challenge #119 - January Blues
The Paper Shelter
-
Challenge #323 - Shades of Blue
Through The Craft Room Door
-
New ATG Challenge TTCRD 23rd January
Time Out Challenges - Challenge #101 - Inspired By Words
Our current challenge is to create a project based on the following quote
- using any word or the whole phrase: